ACHIEVE PERFECT BLONDES, STUNNING REDS & COPPERS, AND THE ULTIMATE GREY COVERAGE IN YOUR SALON SAFELY WITHOUT THE TOXIC CHEMICALS & FUMES FOUND IN TRADITIONAL COLOUR.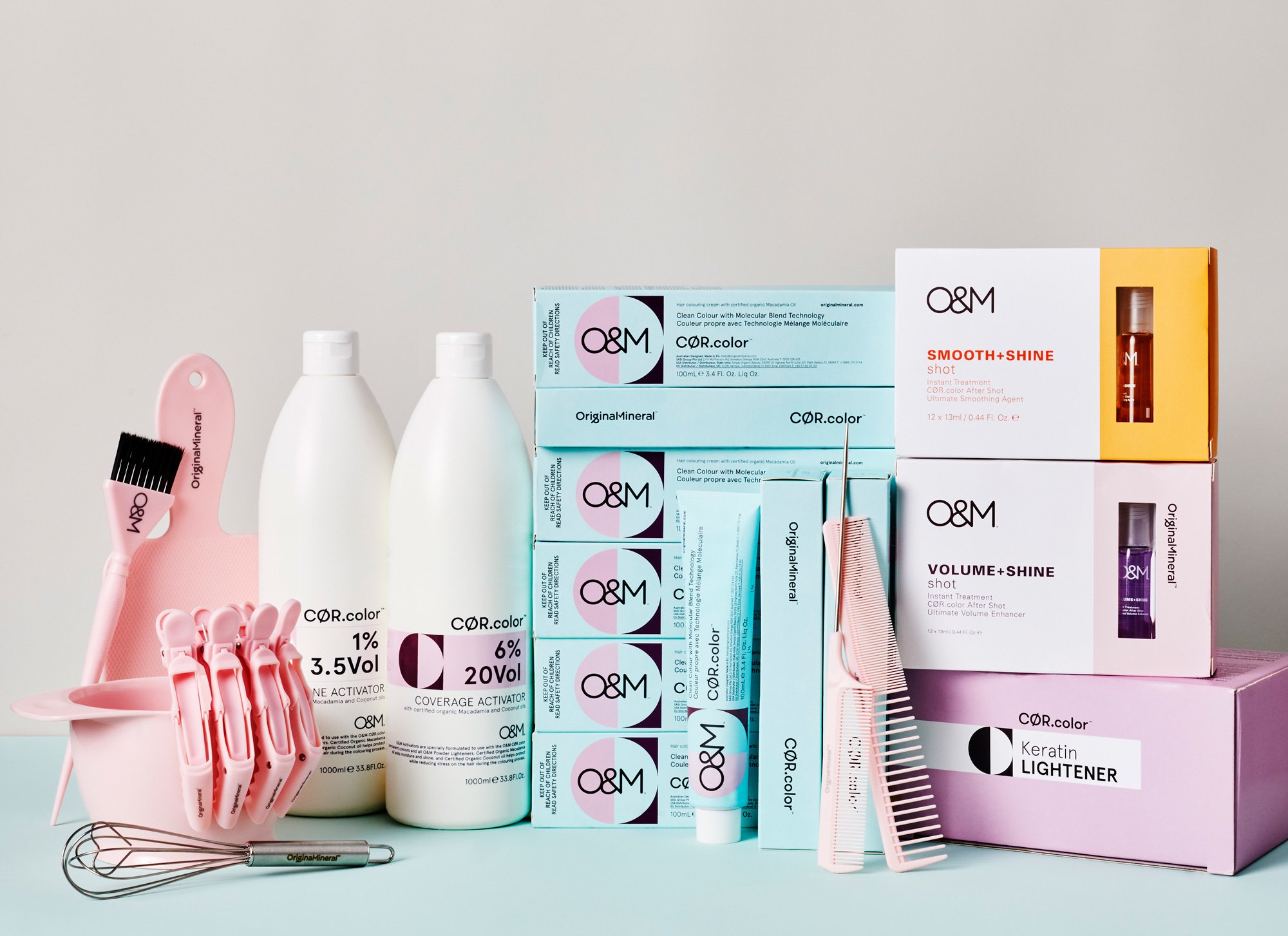 Ready to explore the power, softness and innovation of Clean Colour by O&M? We have designed the perfect kit for those wanting to experience the key players in our Ammonia, Resorcinol and PPD-free line.
Your O&M CØR.color Kit comes with our 10 top CØR.color shades, which can each be a semi, demi or permanent colour depending on the cream activator that you use.
See for yourself what the ultimate grey coverage is like with our Ammonia, PPD and Resorcinol-free range of hair colour.
Create the perfect blonde with our Keratin Lightening Powder and Balayage Board.
Receive a 6% (20 Vol) cream activator for your bases, reds and coppers + a 1% (3.5 Vol) cream activator to create stunning warm, cool and neutral toners.
Your kit also includes an O&M tint bowl, brushes whisk and application comb.
Want to see why thousands of salons around the world are going clean? Then, this is the kit for you!
Full Kit Contents
*The colours may vary slightly, depending on availability.
CØR.color 10.3 Lightest Beige Blonde
CØR.color 10.16 Lightest Ash Violet Blonde
CØR.color 10.8 Lightest Pearl Blonde
CØR.color 6.0 Dark Blonde
CØR.color 6.03 Dark Beige Blonde
CØR.color 6.4 Dark Copper Red Blonde
CØR.color 7.4 Copper Blonde
CØR.color 7.8 Pearl Blonde
CØR.color 8.7 Light Warm Natural Blonde
CØR.color 9.6 Very Light Violet Blonde
O&M Section Clips - Pack 4
O&M Cutting Comb
O&M Metal Tail Comb
CØR Activator Cream 3.5V 1% 1000ml
CØR Activator Cream 20V 6% 1000ml
CØR.color Keratin Lightener Blue 500g (Ammonia Free)
O&M Balayage Paint Board
O&M Smooth + Shine Shot - 12 Pack
O&M Volume + Shine Shot - 12 Pack
O&M Tint Bowl Large Pink
O&M Paint Brush Medium
O&M Metal Colour Whisk
POS Card for Style & Care Pack
BUY NOW - $159.95 (Normally $644.95)
ADD TO CART NOW